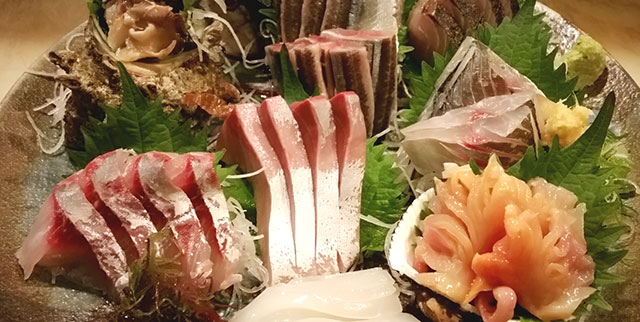 Must-eat item! Jijii's recommendation.
1.

Assorted Sashimi

¥1500/person

Chef's seasonal select
2.

Homemade Fish cake

¥680

Enjoy the freshly fried & soft taste.
3.

Simmered fish

From ¥680

Seasonal fish absorbed the broth
4.

Fresh raw oyster

From ¥480

With chef's special ponzu vinegar
5.

Pickled mackerel

¥780

Regular customer's pick.
6.

Soft cod roe with ponzu

¥780

Must eat in this season.
※Please note that the menu may change depending on the purchase situation on that day.
A la carte
1.3 kinds of Sashimi
¥1,000
For whom wants to taste a bit of everything!
2.Sashimi, you name it
From ¥680
Purchased from Toyosu market and Fudai port
3.Fresh shellfish sashimi
From ¥680
An assorted plate also available upon request
4.

 Salt-grilled fish 

From ¥650

A whole fish or only tasty parts of fish, a choice is yours.
5.Sake-steamed fish
From ¥850
Enjoy slowly-steamed fish with Ponzu sauce and Condiments
6.Assorted Tempura
From ¥750
Discover the full flavor of the ingredients
7.Soft cod roe with ponzu sauce

/Tempura

¥780

This is one of the winter taste of Japan, warm and creamy!
8.Broiled tofu with Moromi-miso 
¥580
The most suitable side dish for Sake or Shochu.
9.Pickled fish with rice bran
¥650
So-called Japanese anchovy, suitable for sake.
10.Homemade 

Salt-fermented squid

¥450

Prep this food during the best season of Japanese common squid.
11.Yose-dofu from Kyoto
¥480
Authentic soybeans flavor Simply with salt and Wasabi.
12.Minced tuna cutlet
¥750
One of most popular menu, made with raw tuna mince. 
13.Deep-fried tuna flavored with soy sauce
¥750
Kids who don't like fish are more likely to enjoy it.
14.Deep-fried shrimp flavored with garlic butter sauce
¥950
Known as highly repeated dish. A whole shrimp with head and shell.
15.Deep-fried small horse mackerel
¥630
You can eat the whole fish from head to tail. Enjoy the crunchiness!
16.Deep-fried fish, you name it
From ¥850
Served with the cranchy fish bone cracker.(Scorpion fish/Fat greenling, etc.)
17.Deep-fried octopus
¥750
Fresh octopus soaked up a lot of flavors.
18.Deep-fried horse mackerel with plum 
¥850
Refreshing taste with Japanese Umeboshi and green Shiso
19.Fried garlic with scorched miso
¥680
It can go with any Sake, Enjoy the soft and fluffy texture.
20.French fries with garlic flavor
¥680
It is fun for children and adults alike.
21.Deep-fried chicken wings (3 pieces)
¥480
Only one single meat dish in Jijii!
Sushi (Yamato sushi)
1.Omakase Nigiri 

8 pieces/4 pieces

¥1,650/¥850

Chef's selected sushi
2.Futomaki (Thick rolled sushi)
¥1,000
The same taste since its founding.
3.Hosomaki wish seafood (Thin rolled sushi)
¥480 each
Conger eel with cucumber/spotted shad/tuna/tuna with pickles/squid with plum
4.Hosomaki with vegetable

 (Thin rolled sushi)

¥280 each

Handmade dried gourd is most recommended. Pokeweed, cucumber, Natto alike.
5.Edomae sushi 

2pieces(Conger eel/spotted shad/Sea urchin)

From ¥420 each
Rice dish
1.Fried rice(Crab/Dried young sardines/Garlic)
¥850 each
2.Today's mini-bowl, choice is yours.
From ¥750
Raw tuna/Soy marinated bonito/Salmon and roe/Just-boiled small fish with fresh egg
3.Takana-pickles rice
¥650
Discover the marriage of Takana-pickles and Shiso leave flavor.
4.

Egg congee with fresh seaweed

¥650

Gentle taste of seaweed and egg will cover your body and spirit warm.
5.Rice mixed with handmade bonito flakes
¥550
Enjoy bonito flakes boiled slowly with salty-sweet on top of just-cooked rice.
6.R

ice bowl with many kinds of sashimi (Raw fish)

¥950

Served with Sushi's restaurant special rice.
7.Rice ball
¥250 each
Salmon/Umeboshi/Bonito flakes/Seasoned cod roe
8.Grilled rice ball(2 pieces)
¥550
The flavors of roasted soy will arouse your appetite!
9.Ochazuke(Rice in dashi soup)
¥500
Salmon/Umeboshi/Seasoned cod roe/Tsukudani/Jijii-original
10.Today's miso soup
¥300
shijimi calm/Asari clam/Raw green seaweed, etc.
11.Fishhead soup
¥680
Enjoy the deep taste of fish broth!
12.Soumen noodle 

(Cold/Warm)

¥580/¥650

Thin Soumen noodle feels great going down.
Dessert
1.Nao-chan's h

andmade pudding 

¥480

One of most popular sweets from nearby pastry shop "Cheshire".
2.Rich cheese & vanilla ice cream
¥450
Be greedy and enjoy both flavors at one time!
Beer
1.Draft – Sapporo black label
¥500
Beer never betray us!, a master's saying.
2.Draft black – Ebisu
¥500
If you wanna try Japanese draft black beer, go for this!
3.Draft half&half
¥500
Enjoy the well balanced taste.
4.Beer orange/Beer grapefruits
¥500 each
The cocktail of 100% juice and daft beer.
5.Bottle beer – Sapporo lager
¥600
For whom wants to experience the flavor of nostalgic Japan.
Cocktail of Shochu liquor
1.Shochu and oolong tea/Green tea
¥400 each
2.Shochu and lemon water
¥400
3.Shochu and lemon soda
¥450
4.Shochu and blueberry juice
¥550
5.Shochu and Orange juice/ Grapefruit juice
¥500 each
Japanese Sake 
1.Seasonal recommendation, glass
From ¥780
2.Hokusetsu(

Niigata), Sawanoi(Tokyo), Suigei(Kochi),
Urakasumi(Miyagi), Tamanohikari(Kyoto),
Koshinokagetora(Niigata), Kicho(Nara), glass
From ¥650
3.

Today's Cold sake, 720ml bottle, Jyunmai

¥2,950
Atsukan sake(Warmed-sake)
1.Kikumasamune (

Honjozo, Dry) 180ml/360ml

¥500/¥1,000

 
2.Daishichi Kimoto

 

(

Honjozo, Dry)180ml/360ml

¥600/¥1,200

 
Shouchu (Japanese distilled liquor)
1.Rice/Wheat/Potato/Black sugar/Awamori
From ¥600
*The brand vary depending on the day's stocks.
Organic Wine
1.Glass (Red/White)
¥750 each
2.Decanter (Red/White)
¥2,300 each
Soft drink
2.Oolong tea, Green tea
¥380 each
4.Fruit juice (Blueberry/Orange/Grapefruit)
¥480 each
Highball (Whisky and soda)
1.Japanese whisky Kaku highball
¥500
3.Ginger&Gari highball
¥550